Zucchini's Web Page
Domestic Short Hair / Mixed (short coat) : : Female (spayed) : : Baby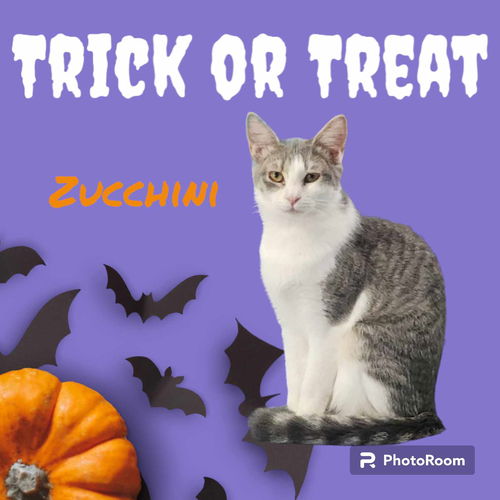 I would love you more than you can imagine.
Please adopt me!
Print an adoption flyer for Zucchini!
Please read the bio of the rescue you are interested in to insure you are a match

if you are a match the first step is to complete the online adoption application
About Zucchini

Status: Available for Adoption (adoption info)
Species: Cat
General Color: Brown (Mostly)
Color: Brown tabby with white / Bicolor
Current Size: 1.5 Pounds
Potential Size: 12 Pounds
Current Age: 8 Months (best estimate)

Declawed: No
Housetrained: Yes
These kittens were born in our home to a feral mother on 4/3/23. They are very socialized and friendly and will do well in almost any approved family with proper introduction. Available 5/27
More about Zucchini
Good with Dogs, Good with Cats, Good with Kids
If you are interested in adopting please read the information here and then complete our online adoption application. One of our volunteers will contact you once the application has been processed. If this animal is listed as a courtesy posting for another rescue please go to their website to complete the online adoption application.